Web Site Design for Home Care Agencies
To be successful, your home care business needs an attractive, modern website that engages and motivates users to take action. 
We specialize in building powerful, visually stunning Home Care websites that boost your professionalism and credibility with prospective clients and referral sources. Most importantly, they boost your revenue!
Learn More
Contact Us

Designing Successful Home Health Care Websites Since 2006
Our company knows home care businesses. That's because our founder & CEO Bob Thomson started and ran his own successful home care agency in Westchester County, New York.
After bringing the company to a high watermark in annual sales and subsequently selling his stake in the business, he started a consulting firm specializing in helping home care businesses with their web technology, website design and web marketing.
Max Performance Group was born.
With the continually increasing demand for home care services, you are in a perfect position to get new customers. And, it all starts with a professional home care website.
Your website is an electronic brochure. It will get more attention and views than any other marketing material or channel you deploy. It's critically important to your success. People will judge you and your business by the quality and professionalism of your website. Get it wrong and you will struggle to land clients online.
Your home care website is the single most important marketing tool you have to educate, build confidence and generate leads and new customers. And now in the age of the coronavirus, businesses need to have a virtual office online to communicate and conduct business.
Over the last 15 years we have designed and built more home care web sites than any other web developer in the U.S.. This experience translates into success for our clients. In fact, the vast majority of new home care businesses we have built home care websites for are still in business today!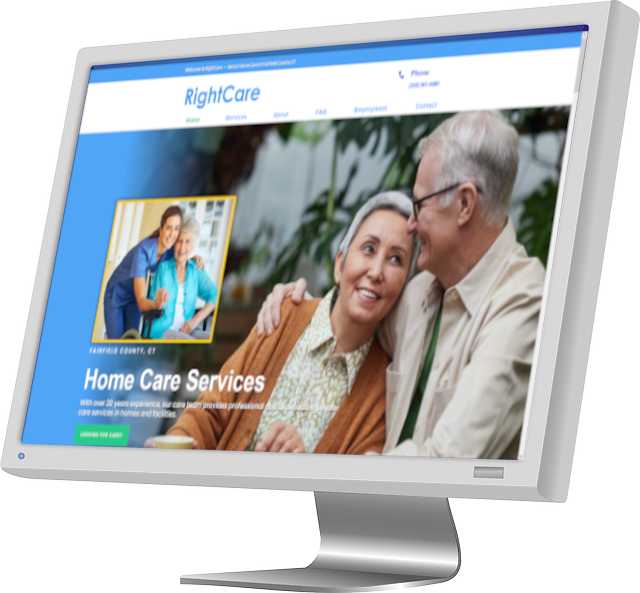 We create powerful, visually stunning Home Care websites that boost your professionalism and credibility with prospective clients & referral sources!
Making an Impact in Home Care Web Design
Many of our clients receive up to 80% or more of their senior care customers from the Internet.  In today's hectic, tech-centric world having a modern, up-to-date website that delivers on user expectations is critical to your home care business success.
And now, new studies show you have just a mere 3 seconds to make an engaging impression on your visitors before they hit the "Back" button.  The good news is that our attractively designed websites load fast on any device and are built to engage and motivate your prospects to stick around and most importantly – take action.
The Leader 15 Years In a Row
Our company, Max Performance Group, has more experience designing and building websites for home care businesses than any other vendor. It's our bread and butter. Having run our own successful home care business, we understand the unique needs and requirements of this special niche.
Our clients receive an average of 75% of their business leads from Internet searches. And new studies show the average website visitor takes less than 3 SECONDS to decide if they want to continue browsing your site or hit the "Back" button.
This makes it critical that you have an attractive, fast loading and engaging website!
Clients From Internet (AVG)
Decision Time To Stay or Hit the Back Button
A Leader In Home Care Web Design
We have been designing home care websites for over 15 years. No other web developer has our experience and know how. We are also highly experienced in local marketing for home care businesses . . .
Expert Web Development

Small Business Marketing Services

Search Engine Optimization (SEO)

Search Engine Marketing (SEM)

Google Ads Specialist

Business Consulting & Coaching

Dozens of Satisfied Customers

Below is a sampling of the many websites we have developed for business clients. Most of our clients are home care agencies.
However, we also build websites for other businesses, including real estate brokers, fitness professionals, weight loss specialists, restaurants, marketing companies and more.
We can build a fast, responsive and engaging web presence for any kind of business!
Watch the websites tour video and or click on any of the thumbnail images below to see our client sites.
Home Care Website Designs & More
5 Star Google Reviews
We take pride in the fact we have a 5/5 star rating from clients. After clicking the button below, click the reviews link on the right hand side of the Google info box.
30 Day Website Guarantee
If in the first 30 days of acceptance of your website design you are dissatisfied with any aspect, we will gladly work with you to ensure your total satisfaction.
Your Discount Ends Soon. Don't Delay!
Discount Pricing for Website Design
Below are 3 website development packages that typically fit the requirements of our home care clients.  Custom quotes are available if you need more development work or specific customization over and above a typical home care business website. Prices below are for website development and transfer to a web host of your choice.
Prices do NOT include: web hosting fee, domain registration fee, monthly website maintenance, premium identity logo design (except for "Expert" package), Google Analytics setup (except for "Expert" package) or unique content development specific to your business.
BONUS:
Phone Consultation (Marketing, Sales, etc.)
Standard
Home Care Website
Price includes $750 Discount

Up to 10 pages for Content

Contact Forms

Calls To Action

SEO Optimization

Security Features

Website Firewall

Senior Images

Social Media Integration

Text Logo (Business Name)

Professional Blog

2 Blog Articles

Pro Logo Identity Design

Google Analytics Setup
Professional
Home Care Website
Price includes $750 Discount

Up to 10 Pages for Content

Contact Forms

Calls To Action

SEO Optimization

Security Features

Website Firewall

Senior Images

Social Media Integration

Text Logo (Business Name)

Professional Blog
 2 Blog Articles

Pro Logo Identity Design

Google Analytics Setup
Price includes $750 Discount

Up to 15 Pages for Content

Contact Forms

Calls To Action

SEO Optimization

Security Features

Website Firewall

Senior Images

Social Media Integration

Text Logo to Pro Logo Upgrade

Professional Blog
2 Blog Articles
Pro Logo Identity Design
Google Analytics Setup
Content Development
For Any Website
Price includes $200 Discount

8 Pages Unique Content Copywriting

Home Page

About Page

Services Page

Resources Page

Contact Page

FAQ – Frequently Asked Questions

Employment Page

Service Area Page
Pro Logo Identity & Brand Package
For Any Website
Price includes $200 Discount

Service Branding

Unique Identity

Attractiuve Design

Standout From the Crowd

Multi Layout

Brand Recognition

Strong First Impression

Memorable & Impactful

Ultimate in Professionalism

Relevant
Google Analytics Setup
For Any Website
Price includes $100 Discount

Track & Report Website Traffic

User Behavior Tracking

Gain Deep Insight

Data Analysis

Audience Reports

Acquisition Reports

Behavior Reports

Conversion Reports

Advertising Reports

Real Time Tracking & Reporting
Custom Quote
Don't see what you need in one of our website packages?
Simply contact us to discuss your website design requirements and we will produce a custom quote proposal.
Frequently Asked Questions (FAQ)
Click on a question to reveal the answer.
What kind of content do I receive with a website order?
For any website order that does NOT include the "content development" add on, we use a set of basic boilerplate text for each page. It's basically "placeholder" text until you can provide more unique text content about your business. This content is not unique to your website and should be customized/edited (by you or someone else) when you publish.
For those customers who order a content development add on option, our copywriters create a set of uniquely written content that we use for your main pages. This content is completely unique to your website and will be recognized by major search engines as unique content. Unique content is a major requirement that the search engines look for when ranking websites high in their local organic search listings.
For the marketing video (bonus), you must provide us with your own script or we will use content from the "Content Development" add on.  We cannot write your video script unless you purchase the content add on option.
Can I edit the website content?
Yes. You will receive a user account to edit your content once it's published. Our websites include an easy to use visual editor that makes most content changes fairly simple.
How fast can you deliver my new website?
Depending on a customer's requirements as well as getting their input in a timely fashion, we typically can deliver websites in as little as 2-3 weeks. On average our websites are delivered in about 4 weeks.
Once I place my order for a website, how does the project get started and progress?
Once you complete your order, you will be directed to a welcome page which explains how the project starts and progresses. In a nutshell, you will receive an email from us requesting a phone meeting to kick off the project. In that phone call we explain how things will proceed as well as what we need from you to complete your website.  We also answer any questions you may have about your project.
What is the "premium identity logo" option?
All websites come standard with a simple, stylized text logo using your business name. However, many businesses want a more robust and memorable image to represent their business identity. In this case our graphic designers will create a 100% unique and professional identity and logo for your business. Many of our clients take this option.
What about website hosting?
You are free to host your site anywhere you want. We recommend you host somewhere where you are not grouped with hundreds or thousands of other websites in a shared hosting plan. We offer private cloud server hosting plans at reasonable pricing which is fine for most clients. Our high-performance servers have solid state hard drives that deliver your content to the browser at lightning speed. Optional email accounts for your business use are $9 per month per account. Contact us by email or phone with any questions or to get started.
What about website maintenance?
Monthly website maintenance plans are available at reasonable prices to cover your site after it has been published.
What do maintenance plans include?
Monthly website maintenance includes:
1) Major and minor updates for your primary website theme software.
These updates are important to keep your site secure and working at top speed and performance. They also keep hackers from cracking your site.
There are 2-3 minor updates each month and several major updates each year for your website theme software.
2) Updates for all plugins used by your website. Most plugins have 1-2 updates per month. Again it is important to keep these updated to maintain performance and security of the website.
3) Back up of database and site files. Each day/week we will back up your database and files to ensure your content is protected from loss.
4) Security monitoring. We monitor your website and receive, analyze and respond to daily alerts and weekly security reports generated by your firewall system. If something needs fixing we address it for you, including malicious files fixing and removal.
Maintenance service does not include:
Fixing major unforeseeable problems that may arise due to technical issues from website plugins, theme, hacking, code breaks, etc. Maintenance fees do not cover content changes, updates or substantial website edits or changes requested by you.

Contact us today for your custom quote or to set up a phone meeting.
636 Route 216
Poughquag, NY 12570